Like all good mud runs stories, my adventure with the summer edition of the Irvine Lake Mud Run started on Friday. I left work a little early and went to Pasadena. I took a detour on my way to my friend Luke's to go by my old stomping grounds, the mystery bookstore I used to visit all the time. The new books bookstore had closed years ago (which is why I don't go by any more), but I was suprised to see the used book portion had closed as well.
Anyway, I then went to Luke's. He lives just a few blocks from downtown. I am so extremely jealous, although I think I would be broke is I lived there. After dinner, we walked down to Vroman's. A bookstore within walking distance? I'd be doomed.
Before we hit the sack, we gave each other Mowhawks.
Saturday we were up bright and early for the drive to Irvine Lake. We got there a little later than I would have liked, but we made it in time to check in our stuff and find the starting line. They really changed things around, and for the better. The parking was closer to the start and finish line for starters. I was a bit confused for a while, but once we got on the course, I felt right at home.
My goal this time was to get completely muddy. That didn't quite work out for me. I suspect that two factors are working against me. First, we once again ran near the front of the pack. I think you need some time for the mud to get stirred up before it will really stick to you. Secondly, I think I need to roll around near the edges a bit more. That stuff seems thicker and might actually stick to me. As it was, I didn't look all that muddy when I crossed the finish line.
But boy, was it hot! We were one of the first waves, so we were running at 9AM. It had to be over 90 already. I finished in 41:something, slower than in April, which disappointed me. But it didn't surprise me. I walked a lot of the course. I just couldn't seem to get my running legs under me. And Luke pointed out, there were some long stretches with no shade and no wind. Getting to the mud at the end was actually a relief since it meant we would cool off.
Yes, I do have a couple of pictures. They were taken after we'd hit the showers, so we definitely look clean. Unfortunately, you also can't quite see the Mowhawks with how the sun is hitting things.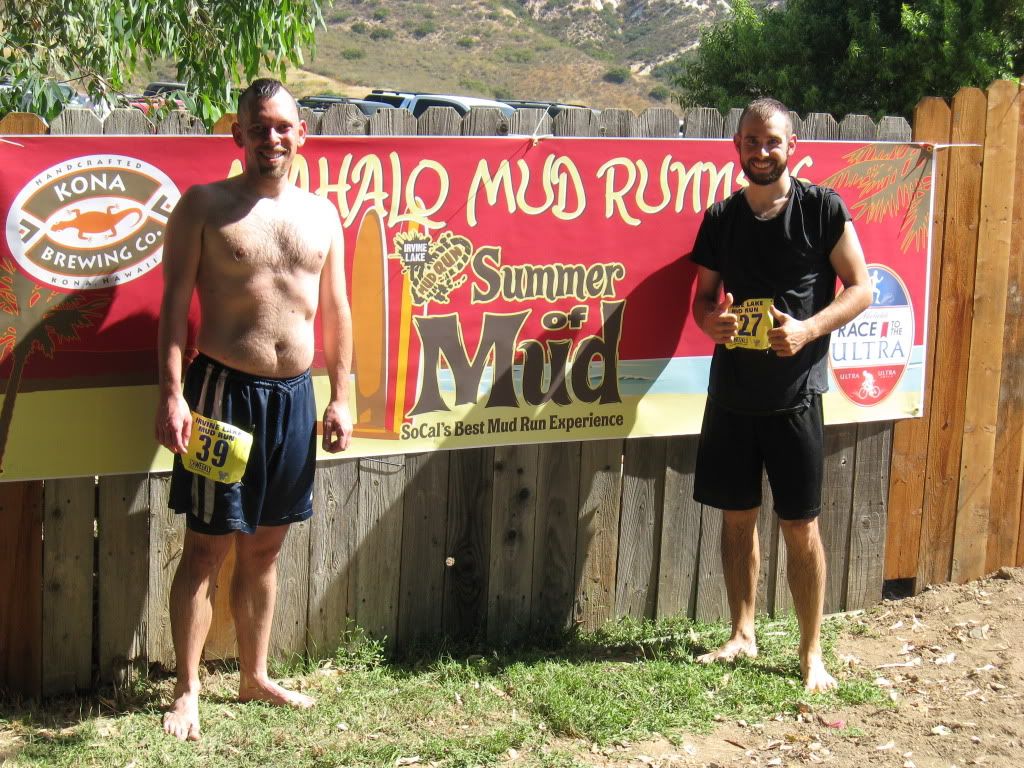 After the run was over, we headed toward the beach. Unfortunately, we were alone, and we spent all the time we had looking for a place to park so we could go run into the water. But we were mainly killing time until we could meet up with Luke's girlfriend, who was getting a ride part way up to spend the weekend with him.
All told, it was a fun day. The big problem is that I am not signed up for another mud run. I do have several more on my horizon, but I don't know how many I might sign up for. I am so tempted to sign up for the
Volkslauf
in Bakersfield in October. I think I probably will, although getting a buddy to sign up with would certainly push me over the edge.